Hue Citadel was known as the capital city of Vietnam in the 19th and 20th century. It is the city of history and culture and exists some of the oldest occupations in Vietnam, all of which are handiworks and are practiced in different villages. Follow Adventures Travel Vietnam's travel guide, you will explore top 8 Hue traditional handicaft villages that are definitely worth a visit.
Sinh Folk Painting Village
Originally, Sinh paintings are for worshipping purposes, exemplifying ancient Vietnamese philosophies in the face of the mysterious and holy nature. Now, although still retaining a very distinct charm, Sinh paintings cover more everyday aspects of life such as families, jobs, landscapes, etc.
Copper Casting Village
The Nguyen Dynasty witnessed the pinnacle of copper casting. You see those impressive bronze artifacts in Nguyen mausoleums, Thien Mu Pagoda, or Imperial City? Well, chances are that the great great grandfathers of the artisans you are to meet in this village built them. It would be really a shame if you do not pay the quintessence of a glorious era, so full of culture and history, worth a visit in Hue.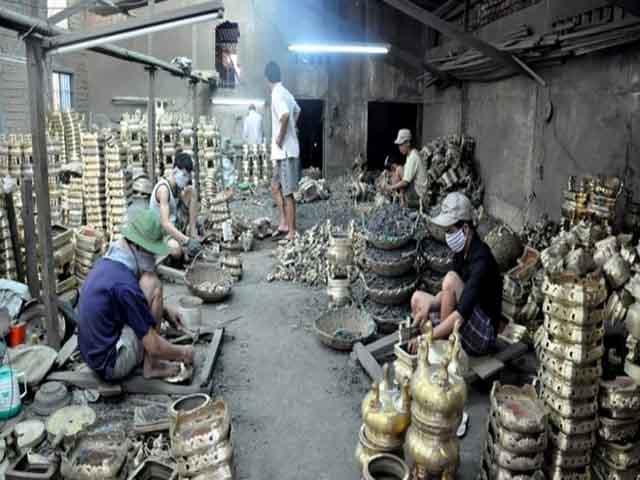 Phuoc Tich Pottery Village
Phuoc Tich not only maintains the tradition of making pottery, but it also boasts a view scenic and serene like those paintings of a charming little town with a bright blue sky, a winding river, and huge old trees. In fact, there is a 700-year-old pottery standing right at the entrance of the village. A little further into the town lies a house displaying a handful of pottery pieces like a museum almost. Nearby is a shop where you can browse an extensive collection of jars, vases, and all other household objects.
Ke Mon Jewelry Village
Intricate patterns and sophisticated designs with subtle carvings here and there, Ke Mon pieces of jewelry give off major royalty vibes, so be ready to loosen the purse string. If anything, know that you are in the good hands of skilled craftsmen with wonderful tastes.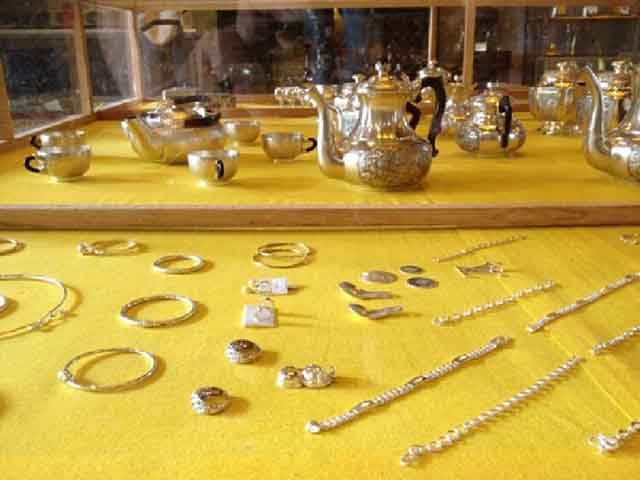 Chuon Village
Chuon Village has a reputation for being the cradle of distinguished scholars since the beginning of time. With vast knowledge and beautiful handwriting, Chuon's most celebrated persons started making " Liễn", which can be seen as a Vietnamese taking on calligraphy, every Tet (Vietnamese New Year). What's written on Liễn usually reflects people's wishes for health, luck, and wealth at the start of a new year.
Bao La Knitting Village
Bao La produces household appliances all made from bamboos, which are widely considered to be the symbol of Vietnamese people. Bao La offers not only basics such as baskets, beds, drainers, and Vietnamese hats (Nón lá) but also decorative products like lanterns and vases. Bao La Village is definitely your go-to place if you want to take some kind of souvenir home.
My Xuyen Wood Carving Village
My Xuyen wood carvings are held in high esteem across the country, having been awarded several medals and certificates. From mythical animals like dragons, phoenixes to war heroes, artisans here know how to breathe life into what seems to be inanimate objects.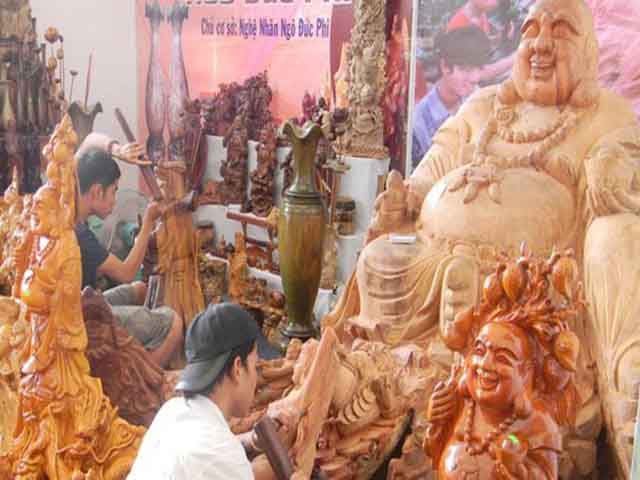 Thanh Tien Paper Flower Village
A century ago, every December, Thanh Tien, a normal farming region, spices up its community with the mass making of paper flowers as decorations preparatory to Tet Holiday. The production of such flowers is now all year round to maintain one of the country's oldest traditions. It should be noted that at a length of a few meters, the handmade lotuses look remarkably vivid and real. Should you wish to make a bouquet yourself, the local craftsmen are there to help.
If you would like to explore and taste various delicious kinds of Hue cuisine, chat with local people, study their livelihoods and understand more Hue History and Culture, Join Hue Street Food Tour from Adventures Travel Vietnam. We guarantee a local perspective that will give you and your family a once in a lifetime experience.