Are you cruising to Vietnam? Will your cruise ship be docking at port of call: Cau Da, Nha Trang and you do not know how to find and book Nha Trang Shore Excursions for you and your family? Adventures Travel Vietnam is here to write this blog to give you, hopefully, some know before you go useful insight about port of call: Cau Da, Nha Trang. From how to head for an exit to suggested Nha Trang Shore Excursions; the 10 must-visit attractions in Nha Trang; the best restaurant for lunch;… This is all you need to take note!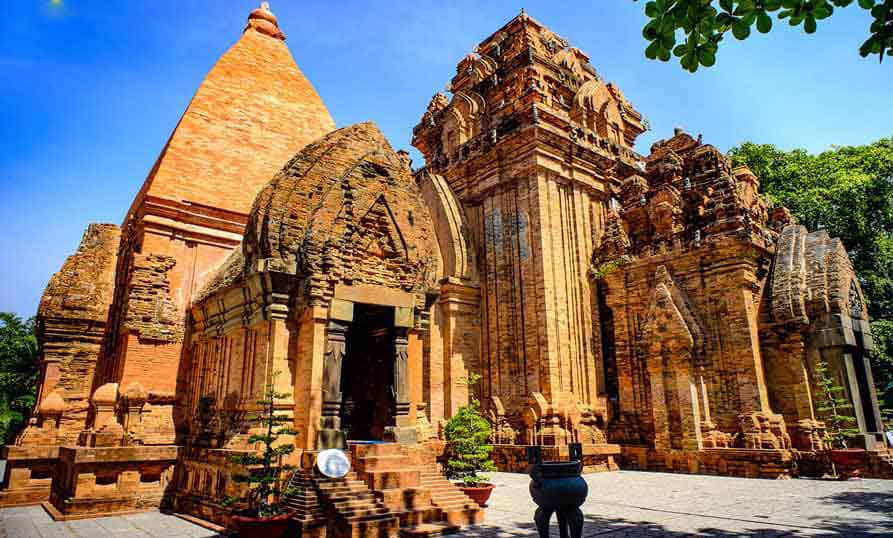 I. OVERVIEW OF NHA TRANG SHORE EXCURSIONS
One of Vietnam's most popular seaside resorts, Nha Trang offers white-sand beaches, azure waters and palm trees swaying in the breeze. Gaily painted fishing boats line the harbors. Small farm villages nestle in the countryside's lush valleys. Yet this relaxed city of some 300,000 souls boasts a long and storied past. It attracts many passengers to visit all destinations via Nha Trang Shore excursions.
Nha Trang was the capital of the Champa Kingdom, which dominated this corner of Southeast Asia for 13 centuries. North of the city, the great Cham Tower complex overlooks the Cai River and offers mute testimony to the kingdom's glory. Today, the towers attract locals and visitors alike, many of whom come to meditate while contemplating superb views of the river and the bay, especially they travel to Nha Trang via their Nha Trang Shore Excursions.
Nha Trang's tourist district consists of a scattering of colonial-era beachfront hotels and sidewalk cafes. The city was a popular spot for U.S. servicemen during the Vietnam War.
1. Food and Drink
In Vietnam, all the seaside cities have freshest, most savory and diverse dishes of seafood. Nha Trang is no different. People come to Nha Trang not just to swim and enjoy its blue sea but also to buy home some kilograms of squids or fish. For street food enthusiasts, Nha Trang is a place of nostalgic, rustic cuisine you can find anywhere else in Vietnam, combined so fine with the top-notch taste of local seafood. It is one of the highlights of Nha Trang Shore Excursions.
– Lanterns
The first choice for Nha Trang Shore Excursions is Lanterns restaurant. Head to Lanterns for a romantic but unpretentious dinner in Nha Trang, where the red lanterns hanging above your head provide a special ambiance. Here, you'll find both European and Vietnamese-style dishes. Try the sizzling pancakes or classic seafood and pasta dishes. Lanterns donates a part of its proceeds to philanthropic causes, including local orphanages.
– Kiwami
If you think you're confined to Vietnamese cuisine while in Nha Trang, you'll be pleasantly surprised that the city offers plenty of variety. At Kiwami, hand-rolled sushi and sake are the restaurant's specialities. Sit at the bar to watch your rolls as they're being made. Here is the second choice for lunch during your Nha Trang Shore Excursions.
– Yen's Restaurant
The third one for Nha Trang Shore Excursions is Yen's Restaurant .Whether you're hungry for a papaya salad, claypot chicken curry, or traditional Vietnamese beef pho, Yen's Restaurant consistently makes "best of" lists in Nha Trang. The relaxed atmosphere and rooftop lounge is ideal for drinks looking out at the Nha Trang skyline.
– Lac Canh
Another option for Nha Trang Shore Excursions is Lac Canh restaurant. The inside of Lac Canh is approachable and casual, where you order up front and barbeque your own meats at your table. Locals flock here for a tasty lunch of grilled shrimp, squid, or beef. The portions are big, so come hungry.
2. Culture & History of the Nha Trang Cruise Port for Nha Trang Shore Excursions
In the mid-19th century, French colonizers took over Nha Trang. Under French rule and beyond, Nha Trang became known as a beach getaway and resort town where vacationers from Ho Chi Minh City and other towns in Vietnam came to for relaxation, beautiful beaches, and scuba diving. This city of nearly 400, 000 residents is slowly gaining popularity as an international tourism destination as more cruisers and backpackers discover the area via Nha Trang Shore Excursions. Today, fishing and trade from the port are hugely important to the area's economy.
3. Nha Trang Cruise Port Facilities & Location for Nha Trang Shore Excursions
The port where your Nha Trang cruise will dock is called Cau Da Port. There's usually a complimentary shuttle ready to take cruise passengers from the port into the city of Nha Trang for their Nha Trang Shore excursions. You also have the option of hailing a taxi just outside of the port or riding in a trishaw to the center of town.
4. Transportation in Nha Trang Cruise Port, Vietnam for Nha Trang Shore Excursions
For Nha Trang Shore Excursions, taxis are one of the most popular ways to get around and see the sights in Nha Trang. Double check that the meter is running whenever you take a taxi in Vietnam. Bicycle rentals are another popular mode of transport in Nha Trang, and the city is also fairly walkable.
5. Shopping Near Nha Trang Cruise Port for Nha Trang Shore Excursions
Nha Trang isn't known for much in the way of shopping, but there are a few hidden gems if you know where to look in this little resort town. Bargaining at Cho Dam market is a must-experience during your Nha Trang Shore Excursions in Nha Trang, which is one of the area's well-known markets for food, fabrics, souvenirs, and locally made goods.
6. Currency & Best Way to Get Money
Before booking Nha Trang Shore Excursions, many passengers wonder which currency used in Vietnam. The official currency of Nha Trang is the Vietnamese dong (VND), though you'll find many establishments accept US dollars in Vietnam. There are ATMS all over Nha Trang, so you won't struggle to find them. Haggling is common and encouraged at markets and when you're buying souvenirs.
7. Language for Nha Trang Shore Excursions
For Nha Trang Shore Excursions, the official language is Vietnamese, but English and French are widely spoken.
II. TOP THINGS TO DO FOR NHA TRANG SHORE EXCURSIONS IN CAU DA PORT – NHA TRANG, VIETNAM
1. Lounge on Tran Phu Beach
Tran Phu Beach is conveniently located near some of the most glamorous resorts in the area, so you'll have plenty of options for food, drinks, and activities when you spend the day for Nha Trang Shore Excursions: swimming or sunbathing here. You can walk from the center of Nha Trang to the beach, or get there via taxi or car in under 10 minutes.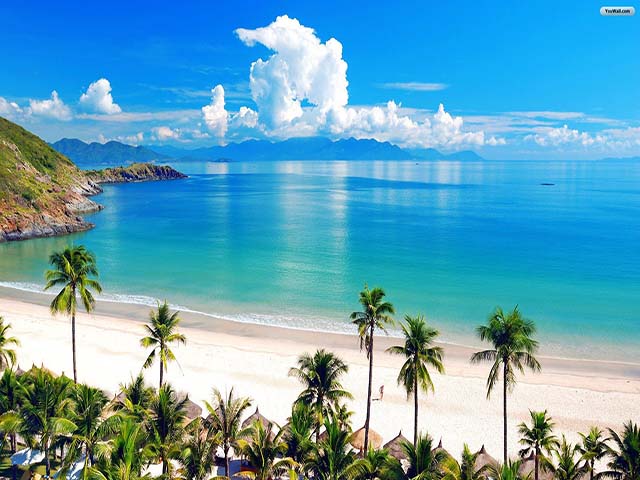 2. Po Nagar Cham Towers
The most popuar destination for Nha Trang Shore Excursioons is Po Nagar Towers. It is the most well-preserved representative of Cham Culture in Central Vietnam besides the World Heritage My Son Sanctuary. Visiting Nha Trang without seeing this masterpiece of architecture and culture would be a mistake! Each tower in Po Nagar with the prominent Champa architecture, was built to honor different deities.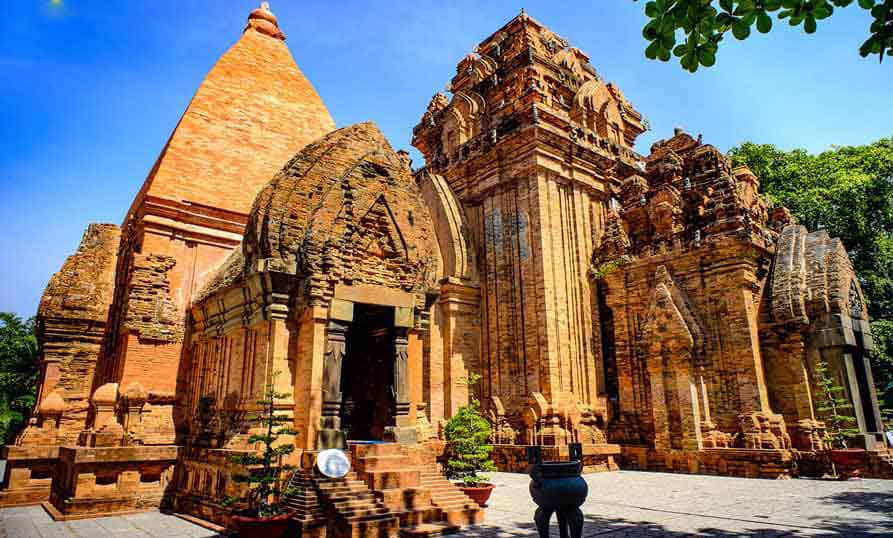 Come to Nha Trang from April to May, you might have the chance to join the bustling annual festival held at the towers. You should book a tour guide to visit this place during your Nha Trang Shore Excursions.
3. Long Son Pagoda
The second popular spot for Nha trang shore excursions is Long Son Pagoda. The reason why this pagoda should be on your list is the huge white Buddha statue lying on the hillside right behind the major compound. The statue is 24 meter high, making it visible even when you're at the ground. The protest of local monks against Diem regime are also remembered through the portraits at the statue's base. Long Son is just 400m west of the train station and can easily be reached.
4. National Oceanographic Museum
Another option for Nha Trang Shore Excursions is national Oceanographic Museum. Come to National Oceanographic Museum, you'll see about 60,000 jars of pickled marine specimens, stuffed sea mammals and birds and a lot of displays of fishing artifacts and local boats which might be the most extensive collection of aquatic life in the Eastern Sea.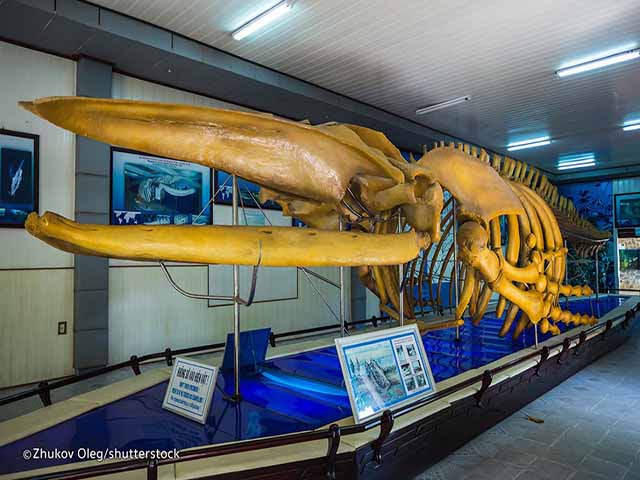 There are two floors to discover: on the 1st floor where the fish tanks are located and the 2nd floor is home to 18-m long whale skeleton. The whale skeleton is absolutely a sight to behold.
5. Get a photo of the iconic Hon Chong Promontory
This site is just too iconic to miss when you are on Nha Trang Shore Excursions in Nha Trang. Located just 3.5km away north of the city centre, Hon Chong is a massive and unique rock setting lying off the beach just a little. The scenery is beautiful, combining with the tranquil atmosphere of the area which would makes a great place for you to enjoy the sunset.
For those who love to admire the wonders of nature, remember to spend time at Hon Chong Promontory – a place you can't find anywhere else outside of Nha Trang.
6. Boat Tour to Nha Trang Bay's islands (+ Diving, Snorkeling)
Another highlight of Nha Trang Shore Excursions is to experience boat tour with diving and snorkeling. If you still feel unsatisfied with just Nha Trang, set sail deep into Nha Trang Bay – one of the most beautiful bay on earth. The bay features a range of wild, pristine islands and islets which are open for visit. You can visit four of those by booking a boat tour from Nha Trang which often includes snorkeling, a visit to aquarium, and fish farm. This is one of the best things to do for those who are seeking active water activities.
Diving, snorkeling to see the colorful coral reefs at Hon Mun Marine Protected Area
Hon Mun Marine Protected Area (MPA) covers 38 sqkm of land and 122 sqkm of surrounding water, including not only Hon Mun but also Hon Tre, Hon Mieu, Hon Tam, Hon Mot, Hon Cau, Hon Vung, Hon Rom and Hon Noc. The protected area aims to reserve the diverse marine ecosystems and coral diversity of the South Vietnam.
The coral reefs of MPA feature more than 350 species of hard coral species. This is the number one reason for you to go diving and snorkeling for Nha trang shore excursions in Nha Trang. Best spots are:
10-15m deep: Hard Rock, Pipe Beach, Lobster Beach
15-30m deep: Mama Hanh Beach, Moray Beach, Madonna Rock, South Rock, Whale Island, Hon Trau Nam
Best time to do: avoid windy season from October to December.
7. Ride a Hot Air Balloon to enjoy the view
The newly renovated hot air balloon centre is located on Hon Tam Island, offering wonderful views of immense ocean and Nha Trang city on the height of 150 meters. A ride lasts about 20 minutes, enough for you to admire the 360 aerial degree views of the city below. You should try it when you are on Nha Trang Shore Excursions in Nha Trang.
Add: Pham Van Dong Street
8. Have fun at Vinpearl Land
If you're going with kids, bring them to Vinpearl Land where they can lose some energy with countless indoor and outdoor games. To get to Vinpearl Land, you'll get a ride on the Vinpearl Cable Car – the world's longest oversea cable car with a length of more than 3km. Once you're in Hon Tre Island, you and your kids might just forget about the time in the place which is called "Disneyland of Vietnam". Therefore let your children enjoy their Nha Trang Shore excursions.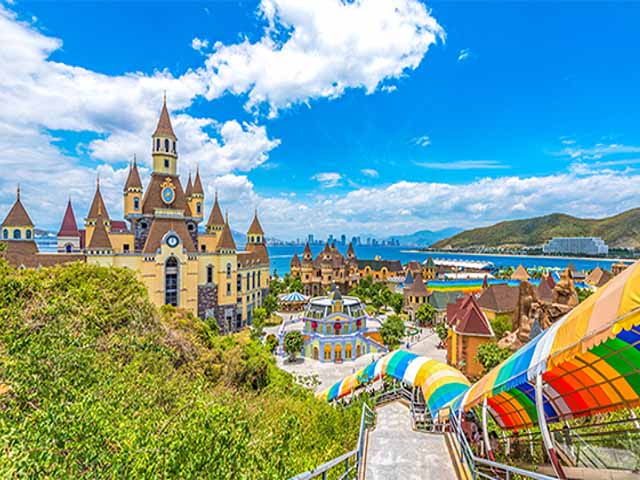 9. Visit Tri Nguyen fishing village and Tri Nguyen Aquarium
If you prefer sites off the beaten track, go south of the city 10 kilometers to visit Tri Nguyen fishing village. This site is just ideal destination to escape the summer heat and the noisy bustling cities. Tri Nguyen fishing village is a small village consisting of about 50 households in vinh Nguyen Ward, Nha Trang City.

Tri Nguyen Aquarium looks like a pirate ship
Tourists coming to Tri Nguyen fishing village during their Nha Trang Shore Excursion can enjoy the tranquil, peaceful atmosphere and beautiful landscapes, try catching fish, ride the coracle boat. Don't forget to enjoy the delicious meal cooked by the local fishermen. Not far from the fishing village is Tri Nguyen Aquarium, a wonderful place to take your kids to.
* How to get there: the best way to get to Tri Nguyen fishing village is to hire a boat from locals and ask them to take you the place.
10. Admire the architecture of Nha Trang Cathedral
Established from 1928 to 1933, Nha Trang Cathedral is the best place to admire the French Gothic architecture. The cathedral stands on a small hill facing to the train station. If you look carefully, it's easy to realize some Vietnamese touches on the building. All the walls of this church are constructed by simple cement blocks and the chapel's dome was made of lattice girders and hard-core bamboo. This is the must-see site in Nha Trang for cultural explorers during their Nha Trang Shore Excursions.
11. Take pictures at the white spiral stair
Another spot for Nha Trang Shore Exxcursions is White spiral stair. If you love take pretty pictures, don't miss the gorgeous white spiral stair located just 5km from the city centre. Come to Hoang Phu Residence to meet this lovely stair that offers a breath-taking panoramic view of Nha Trang beaches and top-notch background for your photos. Hoang Phu Residence also has plenty other corners to be your background with the European architecture style.
12. Take a Dip in Thap Ba Hot Springs
Nha Trang's natural hot springs and mud baths are famous in the region for their healing properties, and people come from all over Vietnam to bathe in the springs. You'll be at the height of luxury as you enjoy everything the Thap Ba Hot Springs Center has to offer, whether that's the mineral-water pools, the saunas, or the communal mud baths. Plus, the area has restaurants and a smoothie spot so you can stay hydrated and rejuvenated all day. You should not miss this place when you are on Nha Trang Shore Excursions.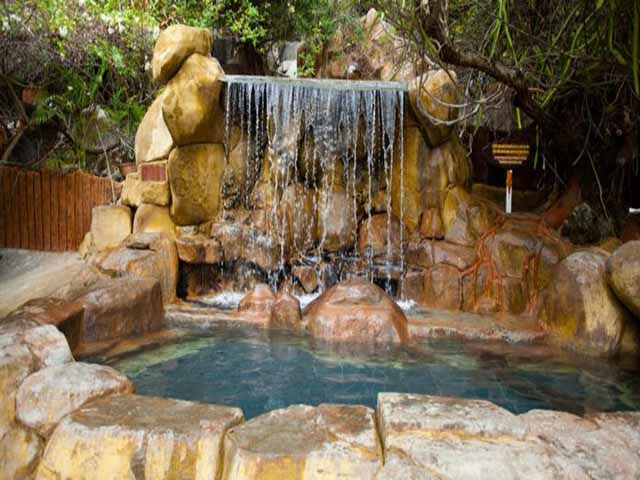 13. Venture to the Ba Ho Waterfall
Just 45 minutes outside of Nha Trang is the incredible Ba Ho Waterfall structure, where the area's trio of waterfalls has delighted hikers and climbers for decades. To get deeper into the complex of waterfalls, you'll have to climb over slippery rocks. If you don't want to navigate alone, a guided hike is an option, too. Ba Ho Waterfall is one of the perfect excursion for Nha Trang Shore excursions if you're craving time in nature and an active afternoon activity.
III. SUGGESTED NHA TRANG SHORE EXCURSIONS (PRIVATE & GROUP SHORE EXCURSIONS) IN CAU DA PORT – NHA TRANG, VIETNAM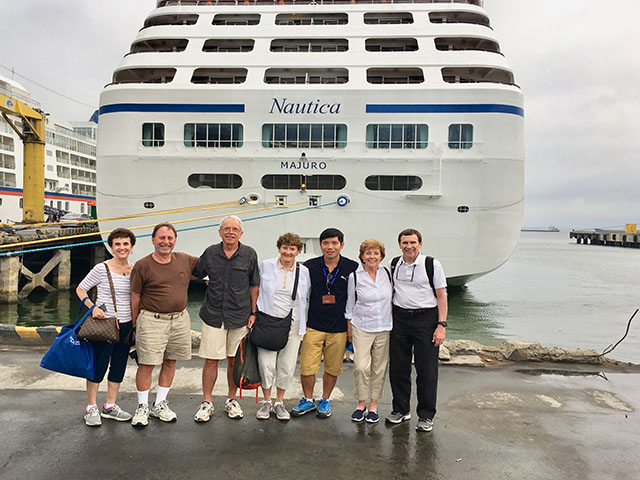 Adventures Travel Vietnam offers the best private custom deluxe Nha Trang Shore Excursions for all valued cruise ship passengers from Nha Trang (Cau Da) Cruise port, Vietnam. We have been highly recommended by many customers on Tripadvisor, Cruise Critic and Private Guides. Join our Nha Trang Shore Excursions, you not only have a chance to explore all the beauties and hidden charms of Nha Trang, also enjoy various delicious speacialities and understand more Vietnam history and cultures. We guarantee a local perspective that will give you and your family a once in a lifetime experience.
Please check out recommended Vietnam Shore Excursions, if you do not find any suitable itinerary, please contact our Vietnam travel experts. We will help you tailor a unique shore excursion to Vietnam that is exclusively for you.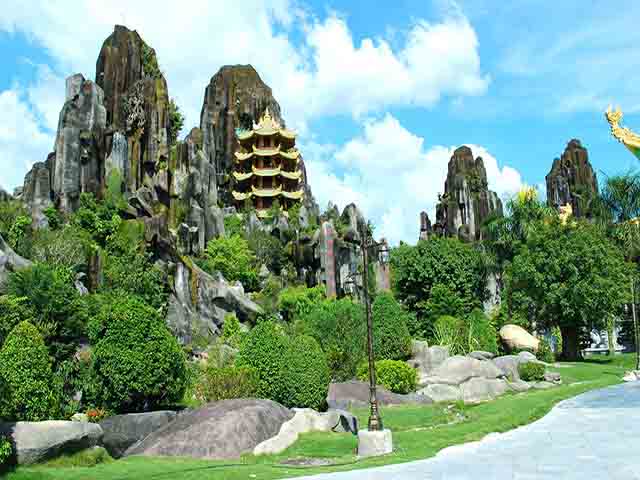 Da Nang is a coastal city in central Vietnam known for its sandy beaches and history as a French colonial port. It's a popular base for visiting the inland Bà Nà hills, located to the west of the city. Here the Hải Vân Pass has views of Da Nang Bay and the Marble Mountains, 5 limestone outcrops that are home to pagodas and caves containing Buddhist shrines.
Nowhere in Vietnam is changing as fast as Danang. For decades it had a reputation as a provincial backwater, but big changes are ongoing. Stroll along the Han riverfront and you'll find gleaming new modernist hotels, and apartments and restaurants are emerging. Spectacular new bridges now span the Han river, and in the north of the city, the landmark new D-City is rising from the flatlands…
---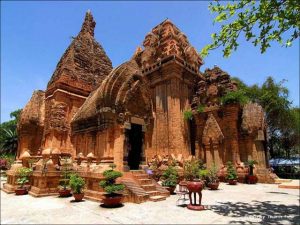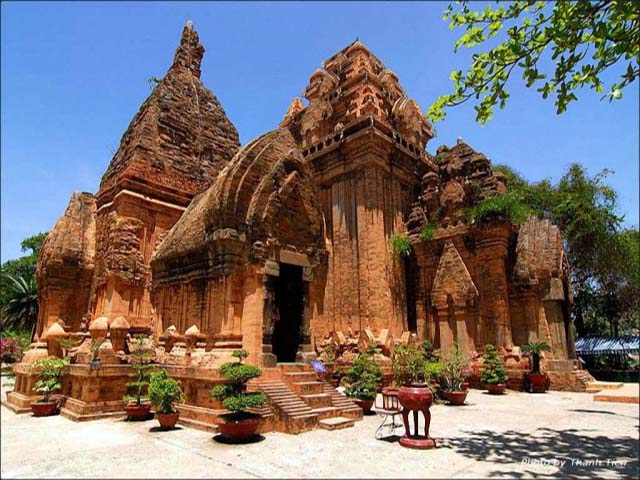 Nha Trang is known as the Riviera of the South China Sea, offers a six-kilometre stretch of beautiful coastline with white sandy beaches, clear waters with an abundance of marine life and thriving reefs, verdant mountain ranges at each end, as well as 19 untouched islets that are just a short boat ride away.
This city also offers a myriad of sightseeing and recreational activities, the coastal town itself is steeped with breath-taking structures that date back to the Champa Kingdom, Buddhist temples, and gothic-style Catholic churches, as well as natural hot springs, salt fields, and unique waterfalls. Customers will have a chance to taste and try fresh seafood and Vietnamese cuisine while lively bars and pubs along the pristine beach are favourite hangouts for tourists to watch the sun sets over the East Sea…
---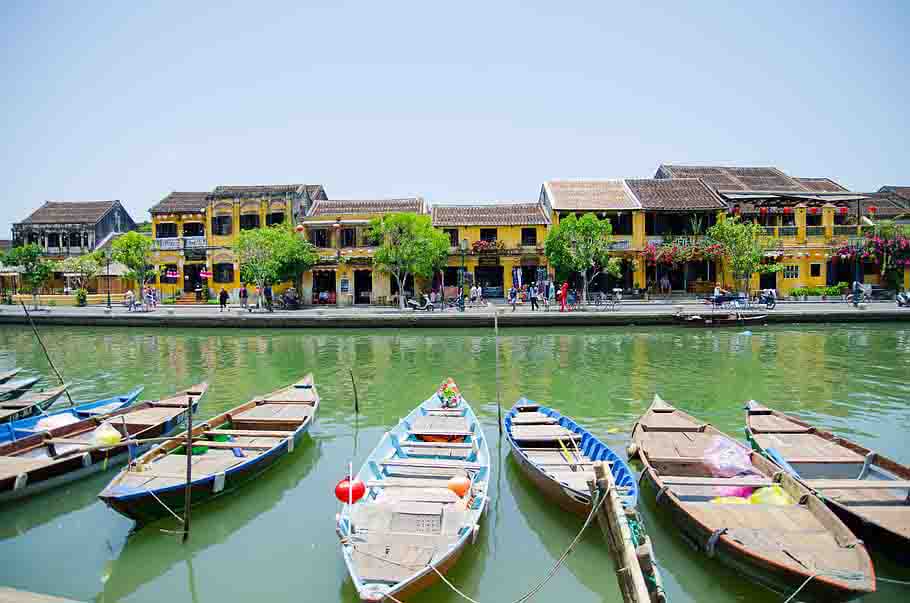 This shore excursion is specially designed for cruise ship passengers from Chan May or Tien Sa Port who want to discover all must-see attractions of Marble Mountains, China Beach, the Japanese Bridge, the UNESCO-listed old quarter of Hoi An, and Dragon Bridge in one day. With this shore excursion, customers not only have a chance to learn about the history and culture of each city, also enjoy a delicious lunch at a local restaurant…
---
This shore excursion introduces two unique & amazing attractions recognized as world heritage by UNESCO: My Son Sanctuary & Hoi An Ancient Town. Customers not only have chance to explore My Son Sanctuary, admire the mysterious ancient ruins of a once blooming capital under the Cham civilization dating from the second century, but also visit Hoi An Ancient Town – a trading center of Vietnam in 15th Century and have best souvenirs for your friends and family…
---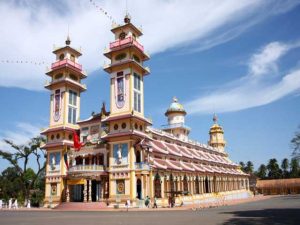 Vung Tau city or Ba Ria-Vung Tau is a famous port city in Vietnam. It has long sandy beaches which stretch along the coastline. This city is also the best place on mainland where you can admire sunrise and sunset on the sea beautifully and has many unique relics such as Vung Tau Lighthouse, Jesus Statue, Niet Ban Tinh Xa Pagoda, Thich Ca Phat Dai Pagoda, Long Son Large House, etc. All the attractions of the city thank to the harmonious combination between natural landscape, urban architecture and cultural works…
---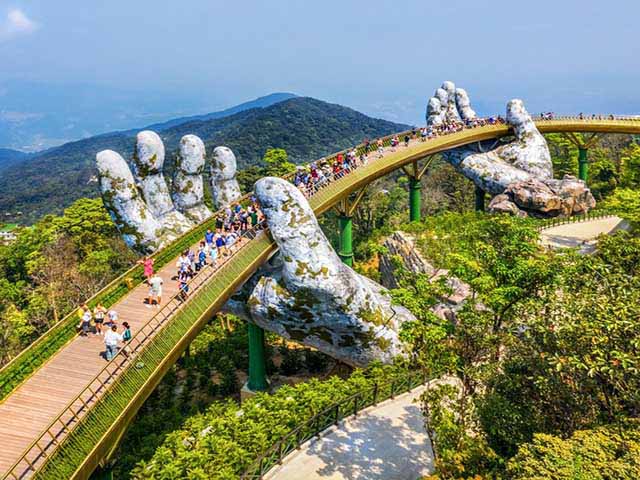 Ba Na Hills is one of the newest and most exciting tourist destination in Da Nang, Vietnam. It is 1,487 meters high over the sea level with very cool climate of 20 degree around the year. Ba na Hills is a mountaintop resort complex that looks like a medieval castle, but inside these stone walls are modern accommodations, world class restaurants and a Fantasy Park full of exciting rides. This shore excursion brings you to visit the Golden Bridge – a new wonder of Vietnam, get lost in French Villas, stand on the top of Bana Mountain, and get a glimpse of Buddhism in Vietnam by a visit to sacred Linh Ung Pagoda…
---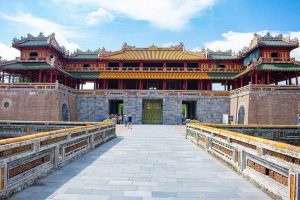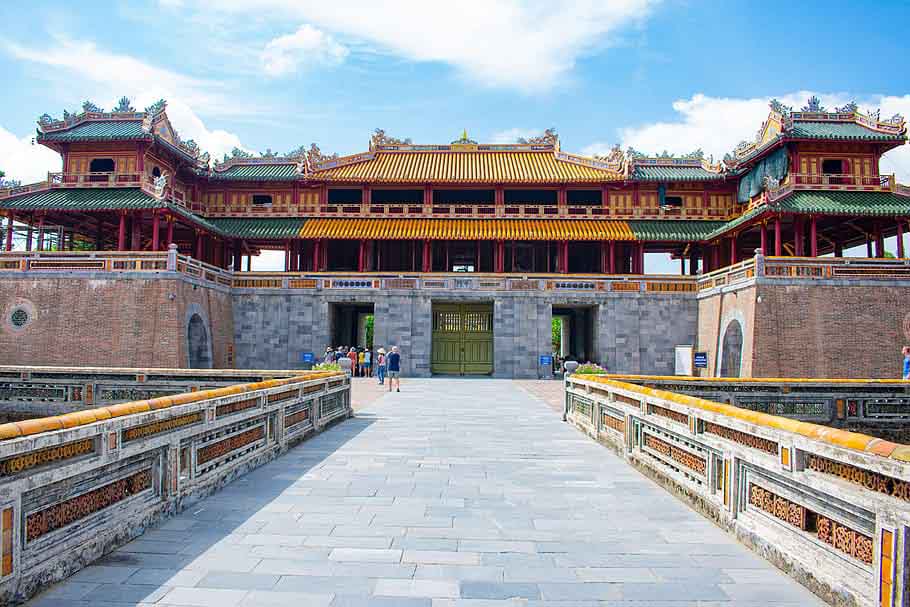 Hue is known as the capital of imperial Vietnam for 143 years, shines with the glories of the old times. The city has a peculiar kind of conservative beauty and slow paced life style. Emperors' tombs, Imperial Citadel, historic relics, beautiful beaches to poetic Perfume River, Dong Ba Market, Thien Mu Pagoda – Hue is just like a hidden gem of Central Vietnam where you can forget the flow of time. And these are just the most obvious things to do in Hue, just a scratch of what this beautiful city can offer…
---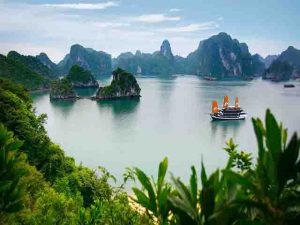 Halong Bay is known as a beautiful natural wonder in northern Vietnam. It is dotted with 1,600 limestone islands and islets and covers an area of over 1,500 sqkm. This extraordinary area was declared a UNESCO World Heritage Site in 1994. For many tourists, this place is like something right out of a movie. The fact is that Halong Bay features a wide range of biodiversity, while the surrealistic scenery has indeed featured in endless movies. Do not miss Halong Bay Shore Excursions for your holiday…
---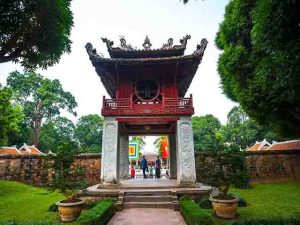 Hanoi is known as one of the most ancient capitals in the world, where travellers can find well-preserved colonial buildings, ancient pagodas, and unique museums within the city centre. A great place to explore on foot, this French-colonial city is also known for its delectable cuisine, vibrant nightlife, silks and handicrafts, as well as a multi-cultural community that's made up of Chinese, French and Russian influences…
---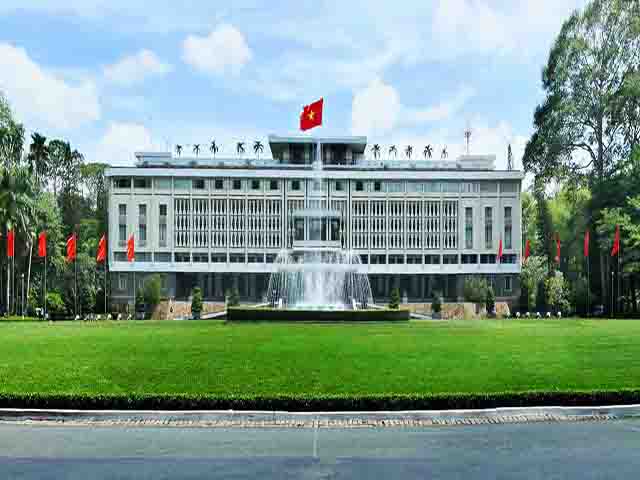 Ho Chi Minh City (Saigon) is known as the business and financial hub of Vietnam. It becomes a popular tourist destination due to its fascinating culture, classic French architecture, and sleek skyscrapers as well as ornate temples and pagodas. The city is also filled with rooftop bars that overlook Saigon and beyond, while fantastic restaurants offer a combination of French, Chinese, and, of course, local Vietnamese cuisine. Here is the ideal destination for cruise passengers from Phu My & Sai Gon Port…
---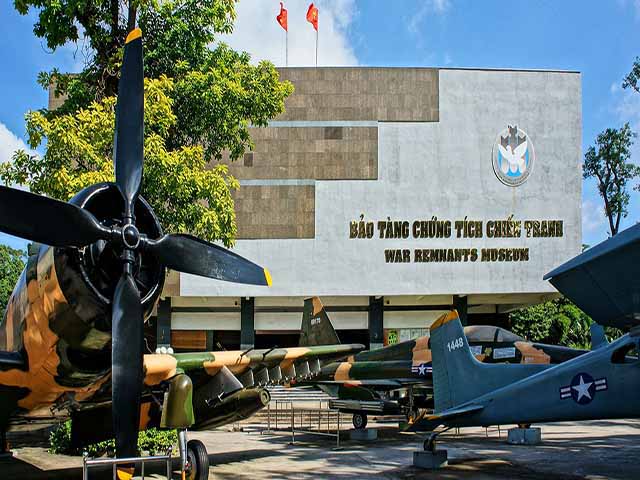 With Cu Chi Tunnels and Ho Chi Minh City Shore Excursions, cruise passengers not only have a chance to explore an immense network of connecting underground tunnels that witnessed several military campaigns during the Vietnam War, but also see the hustle and bustle of Vietnamese life in Ho Chi Minh City. Whether you are a veteran, a war-site enthusiast or just a visitor, you will leave Cu Chi Tunnels and Ho Chi Minh City with newer and deeper perspectives of the country than you had before…
---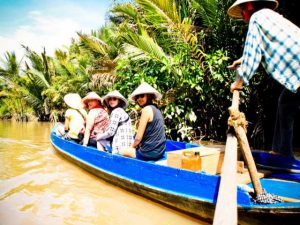 Mekong Delta – the endearing name Vietnamese people often call the land – has always been the most unique destination of Vietnam for cruise passengers from Phu My & Sai Gon Port. With most of the land covered and divided by wetlands and rivers, Mekong Delta has developed a unique way of life and culture adapting to the geography characteristics. There're a lot of things to do in Mekong Delta Vietnam with the immense beauties and cultural charms…
---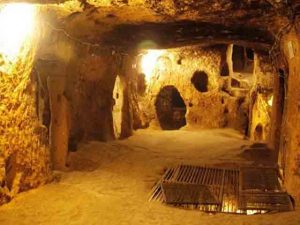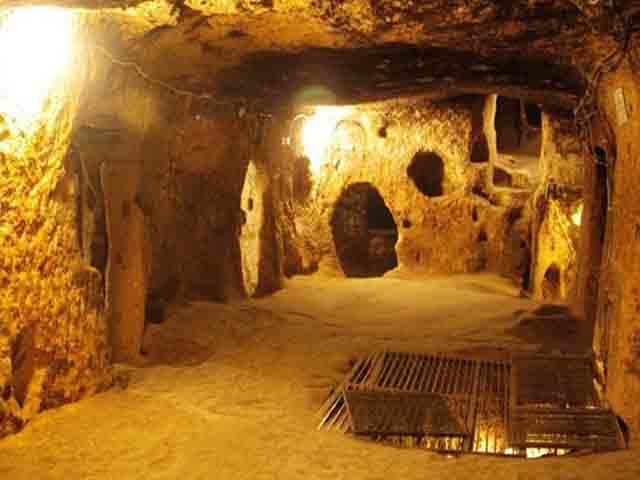 Cu Chi Tunnel is known as one of the must-see spots in Phu My & Sai Gon shore excursions for cruise passengers. It boasts an immense network of connecting underground tunnels that witnessed several military campaigns during the Vietnam War. Whether you are a veteran, a war-site enthusiast or just a visitor, you will leave Cu Chi Tunnels with newer and deeper perspectives of the country than you had before…
---
---
Are you temped to visit Nha Trang? Why not let Adventures Travel Vietnam arrange your perfect Nha Trang Shore Excursions and Vietnam? Tell us your own ideas and requests by mailing to chiduyencssh@gmail.com. One of our travel experts will get back to you as soon as possible!