You probably heard about Halong Bay, the most beautiful bay in Vietnam and wondered if people just overrating it. Why not find out in this Halong Bay Travel Guide where Adventures Travel Vietnam will show how to get the most out of your Halong Bay Cruise experience.
The name 'Ha Long Bay' means 'the bay where the dragon descends into', a literature explanation describing thousands of limestone islands and islets scattering on 434 sqkm of greenish water. Halong Bay's geographical landscape was the result of complex geological processes taking over 500 million years. Inside the caves, researchers found evidence of sea regression and transgression, earth's movements and down-warping tectonics. Altogether has made a wonder of Vietnam landscape on above and under the ground.
Come to Halong, besides cruising the bay, you mustn't miss visiting the impressive system of grottos and caves, or kayaking the hidden water cave, or visiting the nearby fishing villages. Here is the complete guide on the top things to do in Halong bay and how to get the most out of your trip to Vietnamese's World Heritage Bay.
HALONG BAY CRUISE ROUTES & TOURS
---
Cruise is the only way to visit and admire the immense nature wonder in Halong Bay. Due to tourism boost, there're a countless number of cruise operators to Halong. With this amount of information and services to choose from, you might find it to be overwhelming.
The first step to choose your perfect Halong cruise itinerary, first determine how long are you going to visit the bay. Halong cruise tours are often designed into three main types of cruise: day cruise, one-night cruise and two-night cruise. Each type has different features including boat types, activities, departing port and price rate.
1. Halong Bay Day Cruises
---
Halong Day Cruise's Sightseeing
For Halong Bay Day Cruise, you can visit the bay for 4 hours or 6 hours:
4-Hour Cruise: Stone Dog Islet – Trong Mai Islet – Thien Cung Cave – Dau Go – Dinh Huong Islet

6-Hour Cruise: Trong Mai Islet – Dinh Huong Islet – Sung Sot Cave – Titop Island – Thien Cung Cave – Dau Go Cave
Tuan Chau Island
Tuan Chau Island is the top tourist attraction in Halong Bay, not only it's gifted with beautiful mountains and beaches but also a wide range of tourist services such as a recreational park, entertainment venues, restaurants, resorts.
Tuan Chau International Port offers a capacity of harboring more than 1000 ships at a time, depth up to 17 meters and width of 300 to 800 meters. Tuan Chau Island is a great stop for your luxury cruise on Halong Bay.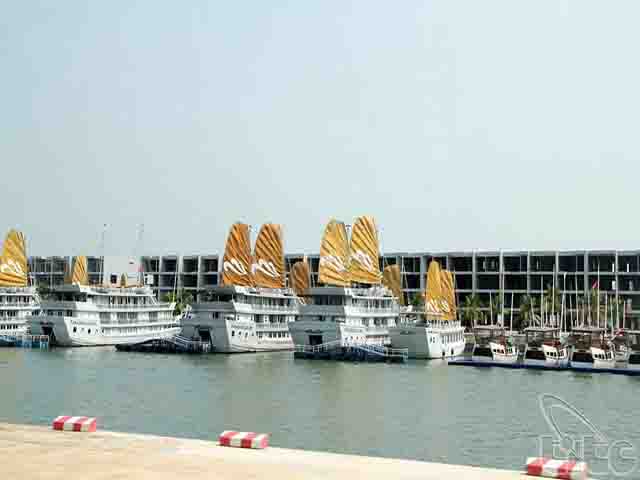 Tuan Chau Beach
It would be a pity if you skip Tuan Chau Beach when visiting Tuan Chau Island. Tuan Chau beach is an artificial beach but its beauty yields to no other, even the natural ones. It's blessed with the white sandy shore, green water and the full view of Halong islets.
Trong Mai Islet
Trong Mai Islet is situated on the southwest side of Halong Bay, 5km from Bai Chay Wharf near Dinh Huong Islet. This twin islet has become the iconic symbol of not only Halong Bay but also of Vietnam.
The islet appears with two 10-m high limestone rocks with shapes like a pair of Cock (Trong) and Hen (Mai) has inspired the works of many artists on photography, painting, and poetry to exploit and describe the beauty of whole bay. The chickens' tiny legs support their heavy bodies, and it appears that one strong wave could throw the two stone blocks into the sea. However, hundreds of millions of years have passed, and the Trong Mai is still there.
This islet is so iconic that it has been chosen to be the logo of Viet Nam Tourism since 2000.
Sung Sot Cave – 'Surprise Cave'
As the name suggests, the cave brings you bewilderment because of its surprising beauty. Located on Bo Hon Island, lying in the center of Halong Bay, Sung Sot Cave is the largest and most beautiful cave in the Bay.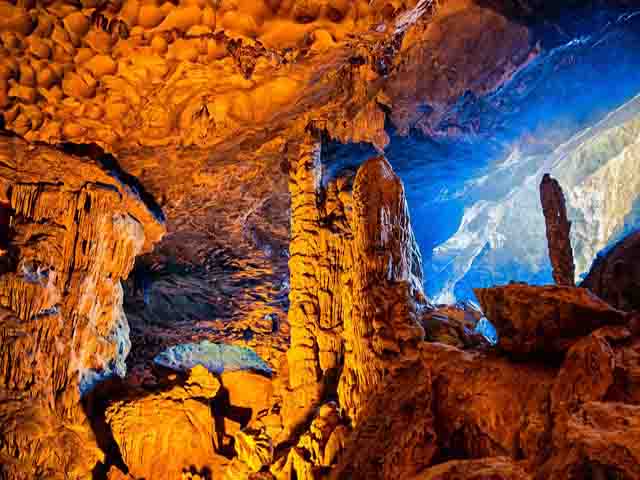 To reach to Sung Sot Cave, you'll walk under the foliage of the forest, climb a long stone stair while feeling all excited as if you're in a game of finding treasure.
The cave covers a total area of 10000 kilometer square with a huge contribution of sparkling stalagmites and stalactites in all sizes and shapes, bringing a mysterious feeling throughout your journey exploring the Sung Sot Cave.
Dau Go Cave – Wooden Head Island
The name Dau Go came from the story of Commander Tran Hung Dao triumphing against the Mongol invasion in the 13th century on Bach Dang River. He deployed booby traps of giant steel-tipped wooden stakes beneath the surface of the water, luring the enemies in and sinking their huge warships when the tide withdrew. In later days, some of those very wooden stakes were discovered inside the cave, probably by the ocean flows. Hence, the cave was named to remember the event.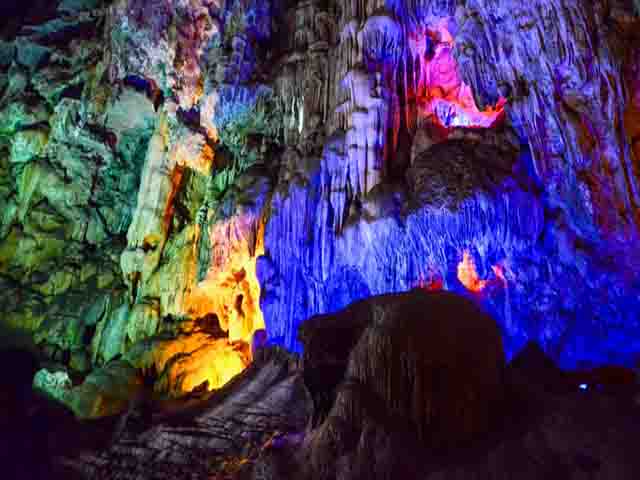 Visitors come to Dau Go Cave must pass 90 stone staircases to reach cave's entrance. Once inside, you'll be amazed by a marvelous architecture of a whole world under the ground carved by the hands of nature.
Thien Cung Cave – Heaven Cave
Listed as one of the most beautiful caves of Halong Bay, Thien Cung Cave was gifted with such a complex structure with many chambers and high ceilings. A great number of stalactites and stalagmites are specially shaped in weird shape which is considered the greatest charm of Thien Cung Cave. The lights inside the cave make the whole interior even more dreamy, luxury and mysterious.
The cave is located in the southwest of Halong Bay, 4 km away from Dau Go Island, measured 10000 square meters in width.
Ti Top (Titov) Island
Ti Top Island had its name from the Russian cosmonaut Gherman Titov who visited President Ho Chi Minh there in 1962. Come to Ti Top Island, you'll have a chance to enjoy the most ideal sheltered beach with white sandy beach and green sea water.
Ti Top Beach
The Ti Top Island's Beach offers a wonderful view of the bay a great longshore to relax and enjoy the water and the sands. The water at Ti Top beach is clean with greenish water, especially on sunny days.
Halong Day Cruise's Activities
Kayaking in Ha Long Bay
It's regrettable if you visit Halong without trying kayaking. Paddling on the incredible green sea water to see the splendid nature with your own eyes would be a once-in-a-life-time experience.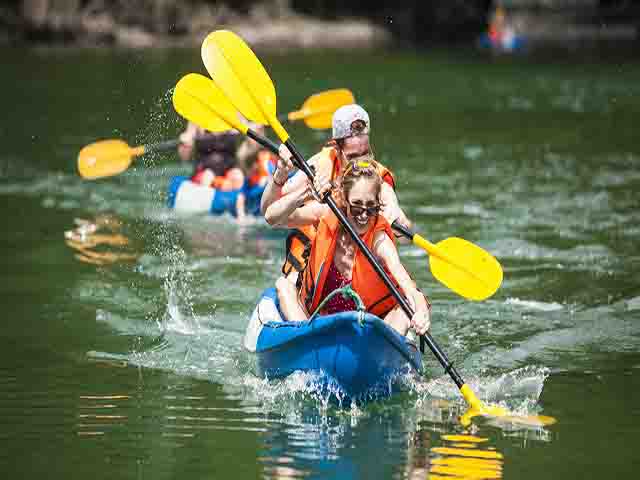 One of the best places for kayaking in Halong Bay must be Luon Cave which is located just 14 km southeast of Tuan Chau Island. The cave is an open air cave, only accessible by boat. To enter Luon Cave visitors must pass through a 100m long arch which is 3m wide.
Passing this arch into a darker side will certainly give you thrills. Once you've passed the arch, an eye-opening sight of sheer, grey limestone cliffs on the green lake will welcome you. Do not miss this activity if you have chance to visit Halong Bay!
Watch Ha Long Bay Sunset on The Cruise's Deck
Seriously, if you want to visit Halong Bay, come during summer and stay for at least 2 days. A 2D1N Halong Bay Cruise will give you the chance to watch the sunset on the bay.
The western sky turning orange and purple, the sun setting down will make whole landscape right out of a water-colored painting. And for that, don't forget to bring your high-definition camera to capture the nature's magnificence.
2. Halong Bay Overnight Cruises
---
Halong Overnight Cruise's Sightseeings
Besides Halong Bay, you can also visit Cat Ba Island, Lan Ha Bay and Bai Tu Long Bay.

An Example of Halong Bay – Lan Ha Bay Route
Cat Ba Island
Cat Ba Island belongs to Hai Phong City, about 10km southeast of Halong Bay, 30km from city center of Hai Phong. Cat Ba is the largest island of Cat Ba archipelago which is composed of 367 islands on the water of Lan Ha Bay. Come to Cat Ba, visitors will have chance to enjoy the wonders of nature, the idyllic way of life and the savory seafood.
Lan Ha Bay
Lan Ha Bay is an equivalent to Halong Bay in beauty and a much better choice for less touristy cruise. Lan Ha Bay is a hidden gem of Vietnam limestone system located in the northern east of Cat Ba island.
Even though the bay has not yet been discovered by many travelers, anyone ever visiting Lan Ha confirms this is one of the most beautiful bays of Vietnam. When autumn comes to the bay, Lan Ha is shining bright with lissom sunlight, cool oceanic breeze.
From here take an overview look towards Van bay gate, your eyes are like drawing a sketch of about 400 limestone islands, delicately arranged in a shape of archwise nature-made embossment.
Bai Tu Long Bay

Halong Bay – Bai Tu Long Bay Route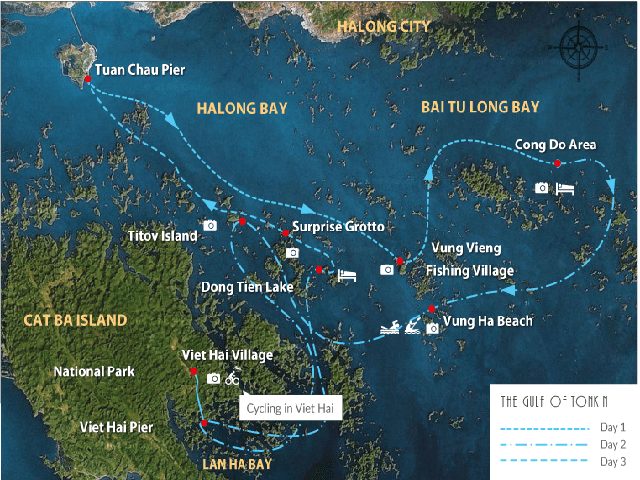 An Example of Halong – Bai Tu Long Bay – Lan Ha Bay Route
If Halong Bay is the Mother Dragon then Bai Tu Long Bay is the Child Dragon, according to the legend. Compared to its mother, Bai Tu Long is more primitive and pristine, with the luxury of having fewer tourists cruising around.
Bai Tu Long has also become a world heritage together with Halong Bay so there is no reason for you to not expect it to be just as beautiful as Halong.
Lying just 30 kilometers northeast towards the Chinese border, Bai Tu Long promises a great getaway destination, a great return trip to nature.
Compared with 600 cruises on Halong Bay, Bai Tu Long humbles with only 30. Cruising in Bai Tu Long Bay can be very different from doing it on Halong Bay. The routes to Bai Tu Long are longer, with lesser stops for different activities.
Thien Canh Son Cave
This cave extends with 3 main caverns which can only be accessed via a hidden path through a thick forest canopy. The cave's entrance doesn't match what it conceals inside.
You'll find the formations inside are shaped in many shapes such as a lotus flower, a baby elephant, seals, etc. Thien Canh Son Cave is indeed smaller to Dau Go Cave but sure doesn't have as many visitors. In beauty, the cave doesn't lack anything in terms of structure.
Ban Chan Beach
The name of the beach means 'Foot Beach' which is an interesting name for a beach. If you're looking for a place to just enjoy the nature with white sandy beach and blue water embraced by the limestone cliff and green forest, then Ban Chan Beach deserves a spot on your bucket list.
Things you can do at Ban Chan Beach: swimming, kayaking, beach barbecue…
Bai Tu Long National Park
A vast area of primitive nature: forest and marine conservation area covering 61.25 sqkm and aquatic area of 96.58 sqkm. You can find in the park bio-diversity in three basic ecosystems of forest, flooded soil and marine life.
The marine ecosystem of the park is home to many genetic samples of rare animals and plants species recorded in the Red Book.
Bai Tu Long's geological structure consists of many rocky islands such as Ba Mun, Big Tra Ngo, Small Tra Ngo, Sau Nam, Dong Ma, Hon Chinh, Lo Ho.
Cong Do Island
Located about 25km away from Bai Chay Wharf, Cong Do Island covers an area of nearly 23.4 sqkm, is home to a large number of concentrated coral reefs on the island's southwest sea.
Cong Do is considered the most beautiful island in Bai Tu Long Bay with many natural lakes which are home to many aquatic lives.
The island is primitive, surrounded by limestone cliffs and thick forests.
Quan Lan Beach
Quan Land Island belongs to Bai Tu Long Bay, about 55km from Ha Long City so you can expect fewer crowds here. Quan Lan Beach is known for its pristine beauty, white sandy shore, and clean water. There're few huts filled with hammock, cool beers available nearby. You'll need to pay an admission of 20,000VND to access the beach.
You can visit the two other beaches on the island as well – Son Hao Beach and Minh Chau Beach.
Halong Overnight Cruise's Activities
Tai Chi Class – physical movements designed for relaxation, balance and health – on the sundeck of the boat while enjoying the panoramic views of the bay in early morning.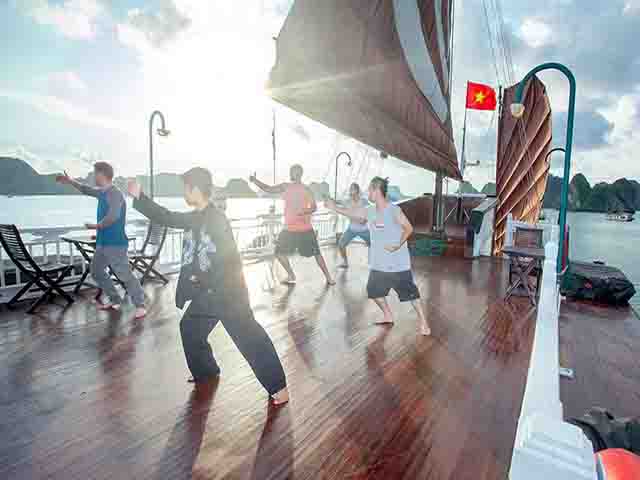 Happy Hour with "Buy One Get One Free": You will have 30% discount off the special drinks menu including cocktails, mocktail and mixed drinks (from 16.30 pm to 19.00 pm.).
Cooking Class: Attend our chef's cooking demonstration and try your skills in the art of traditional Vietnamese cooking (spring roll).
Visit Floating Villages and Fish Farms
For folks who want to wander further away from the tourist focal point, visiting floating villages and fish farms in the surroundings is just what you're looking for.
Our recommendation is Vung Vieng Fishing Village, an idyllic village that rests near a cluster of limestone islets.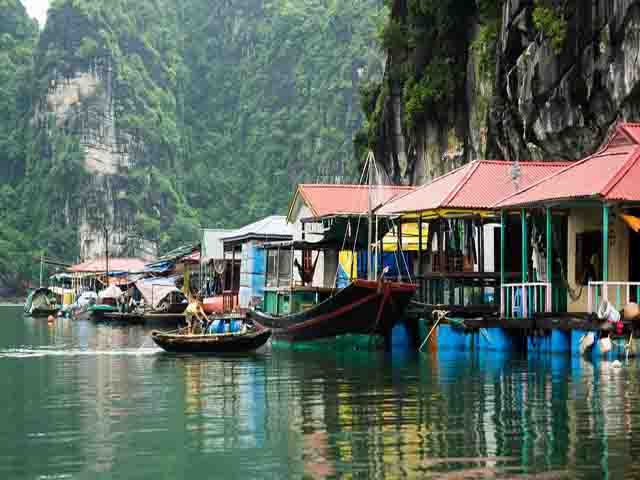 Local fishing communities have been living in Halong Bay for generations, preserving their native way of life with the main income coming from fishing and a bit from tourism. A trip to visit these villages will give you a more insightful into the local life of Vietnamese people in this region. And since you are at a fish farm, why not buy some seafood which is fresher and cheaper?
HOW TO BOOK THE BEST HALONG BAY CRUISE
---
Halong Bay offers a very wide range of cruises with the number of up to 300, different in sizes, amenities, itineraries, and activities. Here is our brief review on the best choices for Halong Bay Cruises:
Cruise Levels:
Mid-range cruises: Can either be a $30-$45 for a half-day or full day tour, Upper Mid-range from $70 – $150
No private tour which sometimes means you would have to wait at the port until the ship gathers enough guests to leave. In peak season, this can be done quickly but you might feel little overcrowded. Budget tours to Ha Long bay are rather way below average with mediocre services and food. Mid-range cruises offer full day tour with cost $70 and an overnight tour $120-$150 and up. Activities on bay are same with luxury cruises but food and services are a bit pale in comparison.
Luxury cruises: $400 for a luxury overnight tour on the bay
Luxury cruises are indeed "movable hotels" which have everything stuffed inside one ship. Some even have the quality of a five-star hotel. You can expect a lot in the cruise amenities with modern LDC TV, DVD player, mini bar, air- conditioner, in house phone, bath tub, Jacuzzi…. With extremely luxury cruise operators, extra services like massage, spa or cooking class and Tai Chi class are also available.
Note: Regardless the level, most cruises offer packages that includes transfers from and to Hanoi.
Tours & Activities
We recommend you to spend at least 2 days for Ha Long with one night spent on the bay. By taking a two-day tour, you will truly enjoy your time here plus have chance to admire the sights of sunset and sunrise on the bay.
With Bai Tu Long as a new rising destination, 2-day itinerary to Halong can be quite varied with a lot of alternative activities such as kayaking, swimming, caving for the first day. Night is spent on the bay if weather allows.
For the second day, Tuan Chau Island and Titov Island are often the choices. Few companies even have tour to Bai Tu Long bay, Lan Ha Bay or to fishing villages.
Our Halong Bay 2-Day Cruises feature on-boat activities such as Tai Chi Class, Cooking class. We also design cruise to Bai Tu Long Bay and other area.
Note:
In summer, the weather in north Vietnam is mostly sunny but rain or small storm often comes unexpected therefore the tour's itinerary might be changed or some activities like swimming and kayaking or staying overnight on bay will be cancelled without warning.
To secure the safety of the guests, from 2011, cruises have to anchor in certain areas and close to each other, be painted in white and only can only stay on the bay overnight when permitted. That means your itinerary is likely to be changed or cancelled when the weather worsens.
* Quick Tip: Booking cruise with Vietnam Shore Excursions will help you save 20% compared to other tour operators. Book to save now!
AROUND HALONG BAY
---
Since the bay takes all the attention and highlight away, some might not even bat an eye to its city – Halong Bay. However, the city can be a wonderful alternative spot to hang around in case the weather isn't favorable for your cruise to sail.
Places to see in Halong City
Bai Chay Beach: a decent artificial beach, 100m wide and 500m long

Bai Chay Bridge: sable-stayed bridge connecting two parts of the city. There's a elevator at the bottom to take you to the top for sightseeing (2000VND/way)

Quang Ninh Provincial Museum: admission 30,000VND per adult, a huge, modern architecture building where you can learn a lot about the region

Hon Gai Roman Church: a historical landmark
THINGS TO DO IN HALONG CITY:
Climb Bai Tho Mt.: ask local for the path up. Once on top, you can have the panoramic scene of the city all to yourself

Indoor Ice Staking at Halong Vincom Center: quite costly with fees: 170,000VND (Mon-Fri), 220,000VND (Sat-Sun and Public Holidays)

Have a blast at Sun World Ha Long Park: pools, indoor, outdoor games, cable car, Japanese garden…
HOW TO GET TO HALONG BAY
---
There is a great news for those who are planning to travel Halong Bay: Hanoi – Hai Phong – Quang Ninh Highway has officially opened. This highway reduces the traveling time from 3.5 hours to just a little over 2 hours. Two most common departure cities are Hanoi and Hai Phong. And you can easily get to Halong from either of these cities:
FROM HANOI
Hanoi is located 165 kilometers from Halong Bay which means it can take you 3.5 to 4 hours of traveling, except for the new highway via which you only need little more than 2 hours. Some cruise buses use this express way and charge extra fee, some still use the old highway with travel time 4 hours. If you take a private car, you may request to use the new highway and pay the toll fee ($15/one way).
The new expressway reduces the time transferring from Hanoi to Halong
* Cruise shuttle bus/mini bus
The easiest to travel to Halong bay is to book a cruise tour that offer two-way transfer (which is always available in our cruise itineraries). You can ask your cruise operator to arrange transfer on the new highway and pay extra transfer fee.
The shuttle buses from cruise operators are often comfortable and high-class. With this options, you don't have to worry about the transferring from and to Halong city and Halong bay.
* Coach
Bus from Hanoi to Quang Ninh are available at major bus terminals like My Dinh and Gia Lam. The price for one way ticket is around 100,000 – 200,000 VND (US$5 – 10). Normally, most of coaches will stop at a terminal near Bai Chay Bridge. From there, you can catch a taxi to Tuan Chau Marina. However there are risks with this option like being overcharged or bad driving…
* Seaplane
Hai Au Aviation launched its new style of Halong tour back in 2014, making it now one of your options to get to Halong Bay. Vietnam Seaplane Tour can take you from Hanoi to Halong Bay in only 45 mintues, offering a panoramic view of the bay for 15 minutes. If you have generous budget, this is something you might want to try, costing USD$175 one way.
FROM HAI PHONG
New highway from Dinh Vu Port to Halong has been completed as of 2018, making the travel time from Hai Phong to Tuan Chau Pier only 45 minutes for the distance of 75 kilometers.
* Coach and Bus
You can catch bus to Quang Ninh at Lac Long Terminal, located at No.22, Cu Chinh Lan Street, Hong Bang District, Hai Phong City. There're few routes available with prices ranging from 50,000VND to 100,000VND.
* Ferry
Ferries from Hai Phong to Halong Bay are available at Ben Binh Terminal. Some cruises offering Halong – Cat Ba – Lan Ha also take guests from Got Ferry Terminal in Cat Hai. The ferries will take you to Cat Ba or Cai Vieng fishing village.
---
Ha Long Bay really is a paradise to enjoy the nature you could wish for. Book a cruise in Halong, then you're good to go since a cruise tour includes most of the things you can enjoy at the bay. Those who want to go off-beat, there're visiting floating villages, climbing limestone mountains you can try.
Are you ready for your best trip to Halong Bay, Vietnam?! Contact Adventures Travel Vietnam for even more insights and advice!